Robot Daycare [Jam Version]
This was my first time participating in NaNoRenO, and I'm really glad I mustered the courage to do it!
Planning
Mid-February, I experienced my first lecture on the differences between the minds of humans, animals and AIs. I immediately figured out I wanted to create a game exploring the topic.
My first idea was a story about 2 friends reviving a third friend as an AI. However, I couldn't come up with good ideas on how to let the story continue from there, so I went with a brand new child robot instead.
Why a child?
I always wanted to try writing horror, and NaNoRenO seemed like the perfect opportunity to me. (If I were to find out I'm not good at it, at least I only wasted one month!) And since I'm a big fan of games like Corpse Party, I knew that having a child "villain" is particularly horrifying.
Next, because I knew writing the game all by myself was going to be too stressful, I asked 2 of my friends (Honey and Functian) if they wanted to join me. And fortunately they did!
Character Design
Because I was only going to make 3 (aside from the robot), coming up with distinct characters was fairly easy.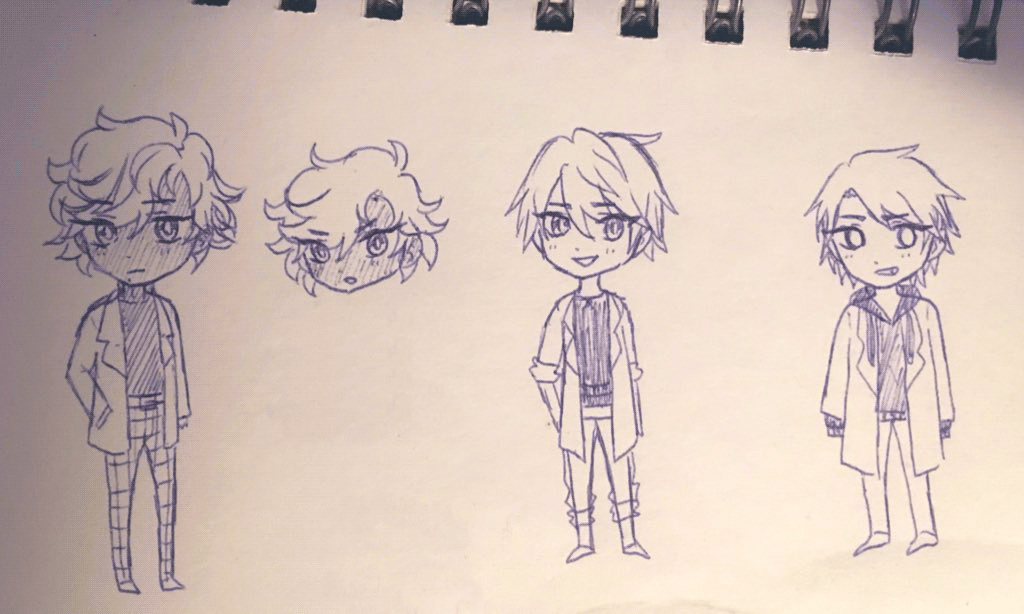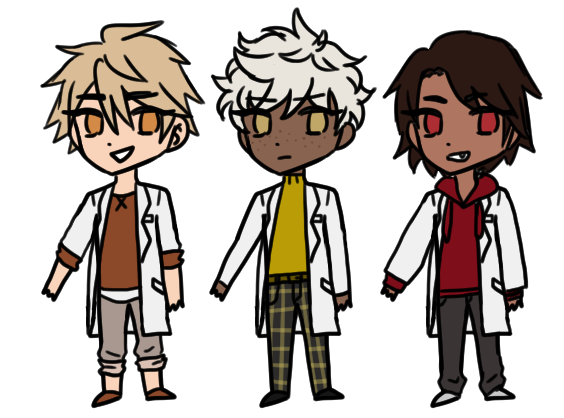 Strelitzia and Lycoris stayed more or less the same, but I wasn't happy with Oleander's hair at first. Mainly because it looked too much like Saeva's. I personally like the shorter haircut, but I wonder if people would've preferred a fluffier Lea?
Nano's design was a little trickier, since 1) I'm not experienced at drawing children and 2) I at first couldn't figure out how to make the haircut androgynous enough.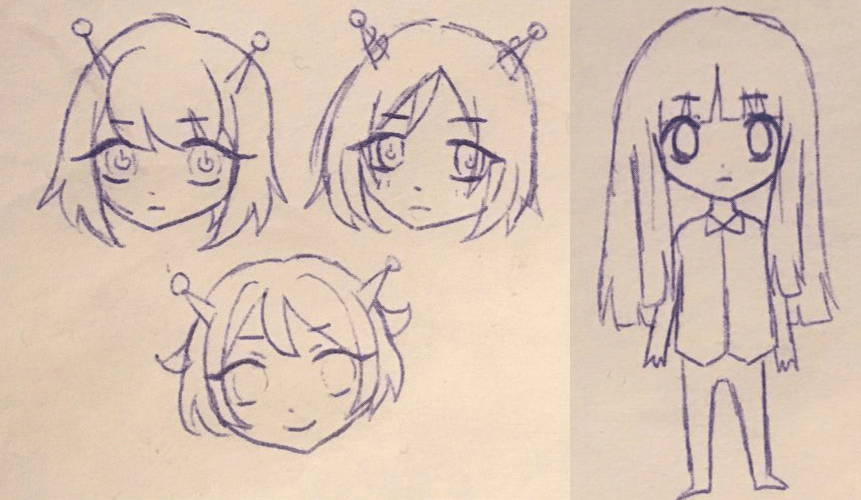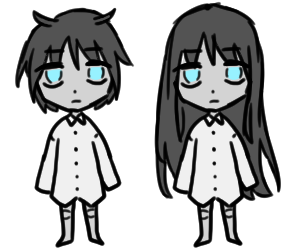 But I'm happy with how it turned out!
Week 1
Because I knew I would stay at a hospital in the first week, I did as much as I possibly could within the first 2 days. This included Lycoris, Oleander, Strelitzia, Nano, the GUI, as well as the first few lines of the opening scene so my friends had something to work with while I was gone.
Week 2
I realized I had to hurry up with finding a composer, otherwise I had to give up on getting an original soundtrack. Fortunately aluminum, who worked with me on a previous project, agreed! And by the end of the second week I completed editing the common route and implemented the title screen.
Week 3
This was when we realized we probably had to hurry up a little. I started working on the horror route, while the other 2 took care of the wholesome route. Aluminum also completed the main theme, which gave me a huge surge in motivation! Obviously I didn't want such a nice track to go to waste on a mediocre game.
Week 4 (+ the last 3 days)
Definitely the most stressful part of the month. I finished the horror route 5 days before the deadline, and used the remaining time for programming, editing and filling in gaps of the wholesome route. Oh, and drew 2 CGs! And something which is a spoiler! But it all ended up working out; the game was finally completed on the 30th!
What I learned
Plan your schedule around finishing a week too early! I technically did that, but the last week was still incredibly stressful, so I can't imagine what it must've been like if we planned to finish the game last-minute.
Interact with other jammers! Following the progress of other developers/teams was really inspiring The nice comments and helpful advice were very appreciated and helped keeping me going.
Don't cling to your ideas too much! Sometimes, certain things don't work and you have to let them go. At best they will cost time and at worst they will diminish the quality of your game. I cut around 3000 words (1/7th of the script) by editing and I think it was the right decision. It's tempting to aim for a high word count, but quality should be your main priority!
Conclusion
Despite the not-so-fun last week, this was a very positive experience. I never had to develop a complex story under time pressure, so bouncing ideas back and forth with the other writers was not only fun, but necessary! I couldn't have made this game without them.
Writing horror for the first time was also an exciting challenge! I'm now more confident in trying out different genres, which should be useful for all my future projects.
But no matter if you're here for horror or for wholesome robot parenting, I hope you will enjoy our game!
Files
RobotDaycare (Windows)
47 MB
Mar 31, 2019
RobotDaycare (Linux)
51 MB
Mar 31, 2019
Get Robot Daycare [Jam Version]