Artificial Selection
Long time no see! Artificial Selection got an ever-so-slightly new look:

This update isn't as impressive as the last one, but there still are quite a few changes:
tweaked the UI (hot pink accent, glowing borders, text box redesign)
added option to change text box opacity
changed the main menu layout (bye, Saeva!)
changed the game menu layout
at last, a functional custom cursor
added new sound effects
optimized image loading; skipping should be much smoother now
integrated Discord Rich Presence

Discord Rich Presence will keep track of your location, the character who's currently speaking, and, if you're currently solving an escape room, how close you are to finding an exit. Finally, all your friends can know what obscure indie visual novels you've been playing!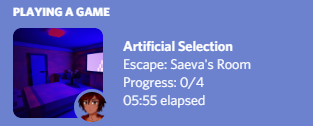 In terms of content, there isn't anything new, so if you already played the previous version, I wouldn't say it's worth downloading this one. But if you haven't, then now is a better time than ever to give it a shot!
Most likely, this is how the final game is going to look.

I'll also use this as an excuse to promote my new game, Deep Sea Valentine. It's an RPG/dating sim about a (humanoid) pink dolphin trying to date other ocean-themed girls. If you like the OST of Artificial Selection, you're going to love this one, because Zaxcess is back for some vaporwave! Other than that, Deep Sea Valentine doesn't have much in common with Artificial Selection, but hey, pitching it was worth a shot!
With that out of the way, Artificial Selection will be my main focus again. Hop on our Discord Server to stay up to date with its development!
Files
ArtificialSelection-DEMO-win.zip
115 MB
Feb 12, 2021
ArtificialSelection-DEMO-mac.zip
98 MB
Feb 12, 2021
ArtificialSelection-DEMO-linux.tar.bz2
105 MB
Feb 12, 2021